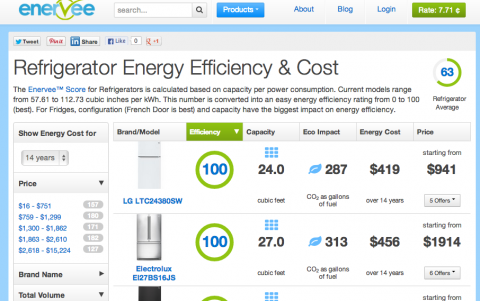 One of our goals when we redesigned Mapawatt was to provide a section where users could learn about and compare different energy efficient and clean energy products.  We realized there were many websites writing about new products and technologies, but there weren't many that were helping users make intelligent buying decisions.  While our products are weighted heavily on lighting, energy monitoring, and even electric vehicles, a website called Enervee is doing a great job with household electronics and appliances. 
Currently, there are 4 main product categories with the following subcategories:
TV & Video: Televisions, Projectors
Computers: Laptops, Desktops, Monitors, Printers
Kitchen Appliances: Refrigerators, Freezers, Dishwashers, Ovens & Ranges, Cooktops
Home Appliances: Washers, Dryers, Air Conditioners
The below information is taken from the press release for Enervee:
Enervee™ is the world's first energy smart scoring platform. The Enervee Score makes it easy for consumers, businesses and governments to purchase appliances and electronics that save energy, save money and help our planet. Two friends, Matthias Kurwig and Don Epperson, founded Enervee in the summer of 2010 while both were planning to buy energy efficient appliances for their new homes. That simple task turned out to be very challenging, as it required searching through 18 different data sources to be able to truly compare the energy efficiency of TVs, refrigerators, washing machines, and other household electronics and appliances. This began a quest to create a platform that could automatically rank products based on their energy efficiency - the outcome of which was the Enervee Score. Enervee has a simple mission - to make it easier for you to find the products that save energy, save you money and help the planet.
About Enervee's Integration of Amazon Marketplace's Open API
Enervee recently launched website integration with the Amazon Marketplace to offer real-time pricing on appliances and electronics currently scored for energy efficiency via Enervee.com.
When purchasing a new electricity-dependent product, Enervee's scoring platform provides users with a more comprehensive look at pricing for yearly electricity costs, beyond initial purchase cost. Enervee's integration with the Amazon Marketplace allows Enervee users to directly compare Amazon pricing on appliances and electronics with energy-cost rates provided by Enervee. The Amazon integration is currently active on the Enervee website for televisions and will soon be available for all categories.
In addition, Amazon Customer Reviews will be pulled directly into product pages allowing Enervee users a comprehensive look at product recommendations from an energy and price and customer review standpoint. Lastly, Enervee can no provide a list of the best-selling products on Amazon via the integration.
"We found that our users had to navigate between appliance purchasing sites and our site in order to truly get a real-time look at both the initial cost of a product and the cost of owning a product," said Matthias Kurwig, cofounder and CEO of Enervee. "The integration with Amazon means a more educated shopping experience for consumers looking to make smart buying decisions and save money when purchasing appliances or electronics."
About Enervee's Five Additional Scored Energy Rating Product Categories
In conjunction with the Amazon integration, Enervee is announcing additional product and brand recommendations in a variety of categories. When analyzing thousands of products during the purchasing process, Enervee provides energy smart ratings per category, in the form of an Enervee Score, making it easy for shoppers to compare energy cost relative to a product's class or performance. These scored categories compare the energy-efficiency of top brands for recommendations on which appliance or electronic to purchase. Enervee has calculated scored data in the following categories: televisions, refrigerators, dishwashers, washing machines and dryers.
Additional Details about Enervee
Enervee connects users with smart-purchasing data based on individual local electricity rates from a database of over 3,000 residential utility providers. By entering local zip codes, users can get personalized energy consumption rates based on area.
Beyond localization, users have the ability to customize product usage rates for a more accurate representation of electricity cost spent. By calculating personal energy costs, Enervee makes specific product recommendations by comparing the products in a user's home with the most efficient models on the market.
Enervee.com allows users to connect with social networking profiles to share products and savings over Twitter, Facebook, Google Plus and Pinterest.
enjoyed our post? let others know: