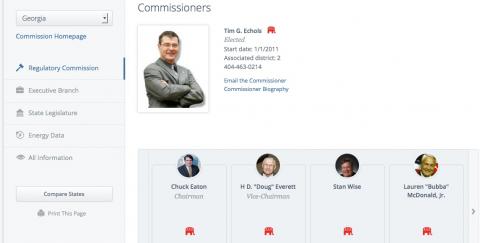 A new tool that enables residents to find out about their state utility regulators and state energy makeup was just released and can be found here.
From the press release:
"Advanced Energy Economy (AEE), a national business organization representing the advanced energy industry, today unveiled a "Public Utility Commission Portal," an online database that provides insight into the official bodies responsible for energy regulation in the 50 states. The site also includes key energy data for each state and a comparison tool that allows users to analyze states side by side. 
Decisions made by PUCs will influence the $100 billion in utility infrastructure investments expected each year between now and 2020, ranging from smart meters to transmission lines to new power plants. As a result, commission rulings affect the electric and natural gas bills paid by every business and household in the country. But these state regulatory bodies and their members are little known by the public, and their actions little understood. Each state has its own commission (typically made up of three to seven commissioners), with most appointed by governors to terms of varying length, but some are elected. All told, there are nearly 200 PUC commissioners nationwide, but the lineup is constantly changing. Turnover among utility commissioners is about 25 percent a year; there have been 20 new commissioners seated so far this year."
And later:
"For making our energy system more secure, clean, and affordable, state Public Utility Commissions are the most important institutions most people don't know anything about," said Graham Richard, CEO of AEE and the AEE Institute. "The new PUC Portal will help our members, policymakers, media and the public better understand how electric and natural gas utilities are regulated at the state level, and get key information on the energy circumstances in each state. This information is vital to everyone who cares about making the transition to a smarter energy future."
Recently I testified in front of the Georgia Public Service Commission on the side of increasing the energy efficiency program operated by Georgia Power, my state's regulated utility.  I also met with a commissioner with several others interested in increased energy efficiency.  The public service commission in my state is part judicial and part legislative, so commissioners can meet individually with each side up until a few weeks before making a decision.  Grist posted a great article about how the solar enthusiasts and a Tea Party group were successful in increasing Georgia's solar portfolio, and most of that work was done by speaking and testifying in front of commisioners on the advantages of solar.  They have a lot of power, and they listen to people like us when making decisions!
The bottom line: it helps to be familiar with your state energy commissioners and how your state gets it energy, and the tool by AEE is the best one I've seen on the web to do that.  Explore it yourself, but a few of the screenshots are below.  I really like comparing the different energy sources for each state.  This tool is much better than the tool the method I used to find out electricity sources in our post Where Does U.S. Electricity Come From?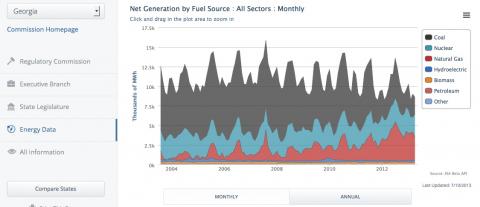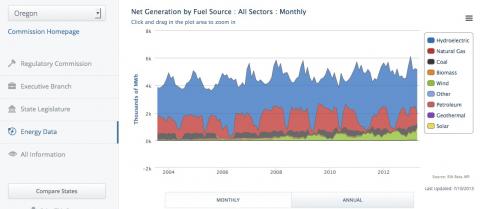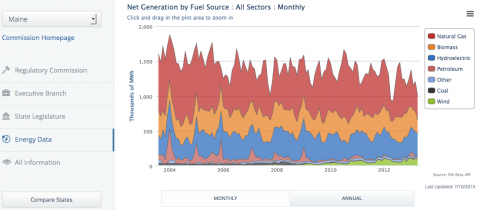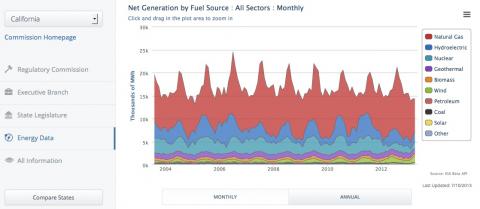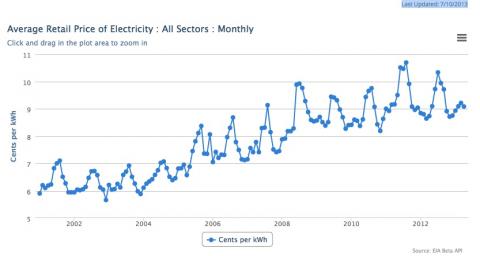 enjoyed our post? let others know: